Unlocking the Power of Metadata
14 February 2023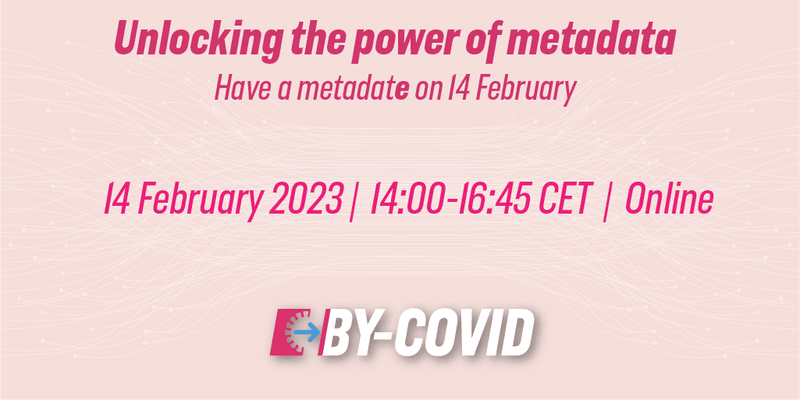 This event is finished now but you can access the event recording and slides below.
Date of the event: 14 February 2023, 14:00-16:00 CET
Are you familiar with metadata, but still feel lost with regards to the different ontologies and vocabularies? This is your chance to better understand what it is all about!
Join us for a short, hands-on workshop where you will discover the importance and benefits of metadata. We will start with the basics and several illustrations, and by the end of it, even a presentation from a metadata specialist will sound crystal clear.
Don't miss out on this opportunity!
Who should attend?
Researchers, data analysts and anyone interested in better understanding what metadata is and its importance.
Agenda
14:00
Welcome and introduction
(Iris Van Dam, Romain David and Patricia Palagi)
14:10
Session 1: Metadata, data, ontologies - defining a common ground Are your questions at dummies or experts level?
(Romain David, ERINHA) DCAT (Pascal Derycke, Sciensano)
14:55
Discussion, Q&A
15:15
Break
15:20
Session 2: Illustrations in BY-COVID
ISIDORe - alignment DCAT adaptation of BY-COVID (Romain David, ERINHA)
Public Health data (Mari Kleemola, Finnish Social Science Data Archive)
Schema.org (Miriam Saso, Sciensano)
COVID-19 Portal metadata (Zahra Waheed, EBI)
FAIRsharing and its standards (Allyson Lister, University of Oxford)
15:50
Session 3: Create your own DCAT metadata record! Hands-on session: Bring your own metadata and create your own DCAT metadata out of it.
16:10
Session 4: Keynote speaker Title of the talk to be announced - Yann Le Franc, CEO and Scientific Director, e-Science Data Factory
16:30
Discussion, Q & A
16:40
Closing remarks
All those who register before
14th February 11:00 CET
will receive the information to connect by email before the start of the workshop.
Please find the link to register below.