Support for the implementation of SARS-CoV-2 data hubs at national and regional levels
13 June 2023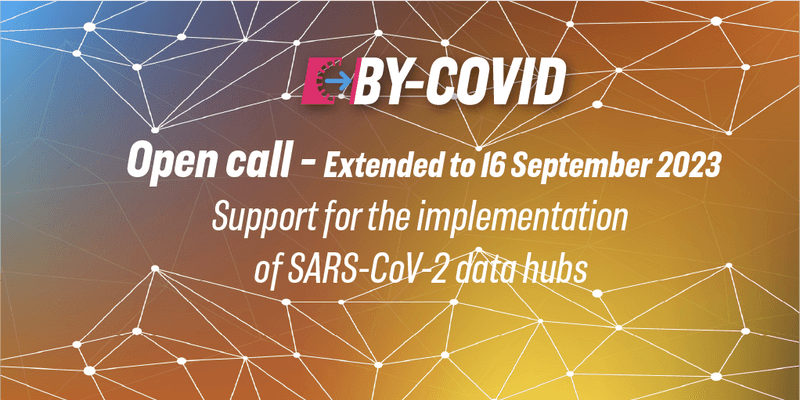 Closing date: 16 September 2023 17:00 CET
The BY-COVID project has an open call for proposals to support the implementation of additional SARS-CoV-2 data hubs to increase the flow of viral sequence data into the European Nucleotide Archive (ENA), in line with open science principles.
The call contributes to the broader ambition of creating a pan-European network for the mobilisation and analysis of pathogen data, including from SARS-CoV-2. Applicants, individuals or consortia, may support the implementation of data hubs through a range of activities such as:
Training and outreach at national/regional level on informatics aspects of pathogen genomics
Infrastructure development - especially development of programming interfaces to provide connectivity with data hubs
Curation of data and metadata
Analysis of locally generated data
Landscaping studies to understand national and regional needs
Who can apply
The persons or categories of persons that may receive financial support are:
Legal entities
A consortium consisting of several organisations can apply, but a single legal entity needs to act as a contractual partner
Single institutions or consortia such as:

Academic, government or commercial entities engaged in sequence-based surveillance and outbreak investigation
NGOs and IGOs involved in capacity building

Scientists, public health professionals, (bio)informatics experts, funders, educational establishments
Applicants should not be beneficiaries from the BY-COVID project and are limited to EU and associated countries only. Please check the eligibility criteria for more information.
How to apply
Full details are in the open call guidance document.
Find out more
An overview of SARS-CoV-2 data hubs and a list of existing data hubs.
Contact: Marieke Willems, by-covid-admin@elixir-europe.org