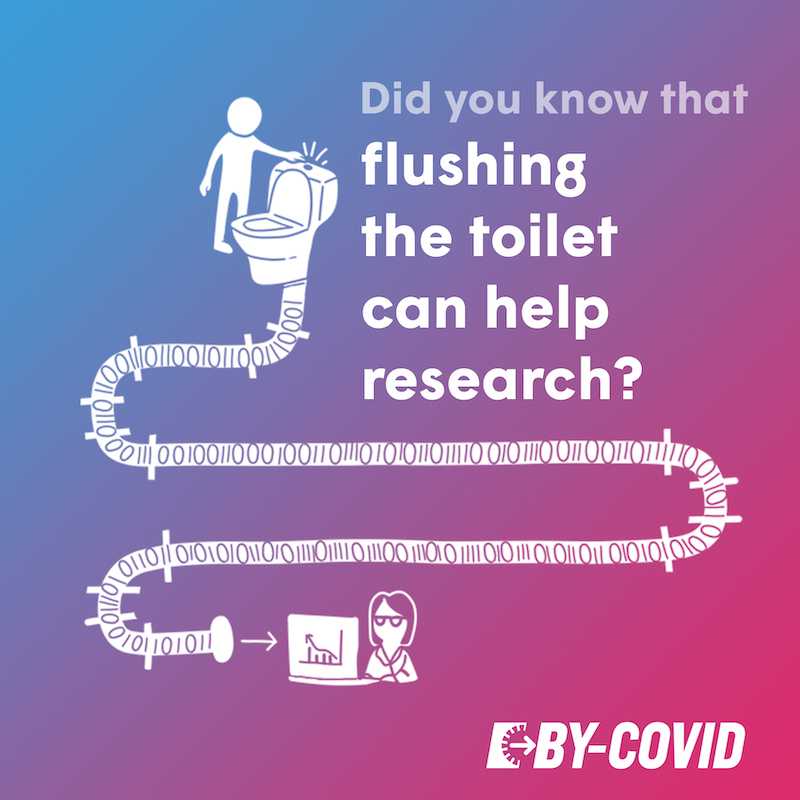 Did you know that flushing the toilet can help research?
Did you know that flushing your toilet might be contributing data for research? Wastewater from toilets has been used as a valuable tool for detecting disease hotspots in the COVID-19 pandemic. By surveying wastewater we can anticipate rates of COVID-19 related hospital admissions in specific areas or even predict future outbreaks of other diseases.
Our excrement can be seen as a dynamic record of events happening in our body, for example, it contains fragments of the COVID-19 virus when we are infected with COVID-19. This means we can measure which variants are circulating in particular areas and use this information to design a targetted public health response.
HOW IS THE DATA COLLECTED AND STORED?
The BY-COVID project is working with the Italian SARI initiative which collects data from wastewater approximately once or twice a week in each city in Italy. The data are then displayed on dashboards in real-time to provide up to date surveillance of pandemic waves. Researchers from the BY-COVID project ensure the data extracted from wastewater samples are available for re-use in other studies, for example to make comparisons between different countries, to answer research questions about viral spread or to inform public health decisions.
WHAT ARE THE BENEFITS?
Wastewater analysis is useful for both the detection and surveillance of infectious disease outbreaks. Policy responses can be more effective if we know what pathogens are present and in which locations. The resources provided by BY-COVID (for example databases and data analysis software) are therefore useful for fighting the current pandemic and also for spotting future ones.
WHAT ARE THE RISKS WHEN WE USE THESE DATA?
Personal data could be found in wastewater if the human DNA in the excrements is analysed. However, only data about viruses is collected, not data from humans. The BY-COVID infrastructure is set up to counter any risks of data misuse: all the data gathered for the wastewater analysis is aggregated, which means it would be impossible to precisely identify any information about individuals.
WANT TO KNOW MORE?
Here is an example of the use of wastewater analysis on a university campus : https://www.youtube.com/watch?v=ysZsx5wS2YM
This article presents a summary of the results of a first survey of COVID-19 variants in Italian wastewater : Flash survey on SARS-CoV-2 variants in urban wastewater in Italy 1st Report (Investigation period: 04 – 12 July 2021)
Find out more about the use of wastewater : Water and wastewater digital surveillance for monitoring and early detection of the COVID-19 hotspot: industry 4.0 | SpringerLink
Watch a short explanation on aggregated data : https://www.youtube.com/watch?v=PvohkMNV9Lo
---
YOUR THOUGHTS
We'd love to hear what you think about these issues.